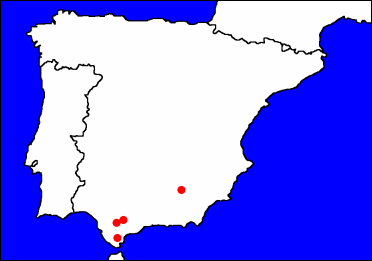 The Trip:

Dramatis personae:
Barry (me)--carnivorous plant nutball.
Beth--Barry's wife. Artist by training, but a full fledged naturalist, especially for birds and butterflies.
Susan--Beth's mother. Artist by training. Paris resident.

Setting:
We were travelling through Spain, having just finished a few days in Portugal and a few days in Paris before that. While I was angling to spend as much time in the wild as possible, I was in a conflict. Beth and her mother had a wild, inexplicable desire to visit as many art museums and churches as possible. By my estimation, in the previous eight days, we had spent more than half of that time looking at art galleries and churches in Paris, Madrid, and Lisbon. For God's sake--at one point we spent an entire day looking at a gallery dedicated to a single artist, Edouard Manet.

Beth and I usually have a normal balance of outdoors and indoors on our trips. But the influence of her artist mother and the glut of European churches and art galleries meant that I was being barraged by a never-ending parade of mind-numbing visits to see Christ paintings, Christ sculptures, Christ relics, and Christ frescoes (whatever those are). Christs, Christs, Christs.

It was good to get outside.

Start the photo-essay about Spain!