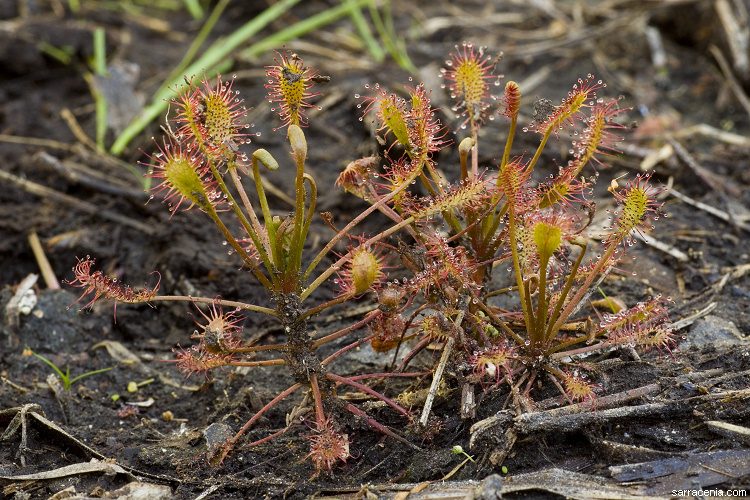 Sundews:
Next, Mark drove us 20 km south to Carolina Beach State Park in New Hanover County. Find this place on a map and you will see it is right near the coast. The staff at Carolina Beach State Park are quite proud of their Dionaea, and have a "Flytrap Trail" that you can hike. I learned about this site many years ago when its staff told me I could mention the site by name in my FAQ, but this was the first opportunity I had to visit. I was looking forward to it!

The trail had recently been burned, but we found some carnivorous plants along the path. Near a rather small Sarracenia flava we saw these quite marvelous Drosera intermedia plants. Nice, huh? Not quite as stemmy as plants you might see in New Jersey, but more stemmy than squat little Massachusetts plants.

I discovered that Mark was a big fan of reptiles. I love seeing snakes, so I challenged him to find as many as he could. When I had toured Texas bogs with Mike Howlett (another reptile aficionado) we found not a single snake except one poor, semi-dead copperhead on a road. Mark's simple challenge was to beat Mike's miserable record.

We also found some nice Utricularia subulata in flower, but I doubt you'd care. Hardly anyone ever does.