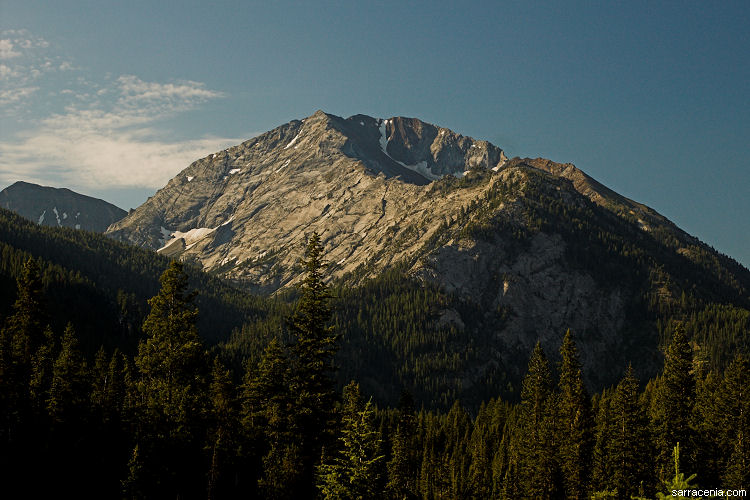 Enterprise, Oregon:
I was a pathetic sight when I was in the foyer to my motel. I was hungry and thirsty, low on gasoline, bereft of electrons, and coated with a full-body chrysalis of mud and slime from a full day of rolling in bogs and fens. So I was not happy to hear the proprietor of the motel offer his full apologies for mistakenly recording my arrival as occurring one week later than today.
Yes, he had made a terrible mistake and was hugely apologetic.
No, he had no rooms to offer.
Yes, there was a big Native American Pow-Wow that week, so he didn't have any available alternatives.
No, he didn't know if any of the few other motels in Enterprise had rooms.
Sorry!

It was not a good moment.

The only good news was that he had managed not to throw out the fresh film and hiking permits which I had arranged to have shipped to me at the motel address. Snatching the film and permits, I stalked back to my car. Racing from motel to motel, I found the very last room that was available in town, at an excellent motel called the Ponderosa. Alas, the only room they had left was for smokers and it smelled a little cancerous, but I certainly could not complain. The fine folks at the front desk even gave me a break on the room rate when they heard my story of woe.

Instantly, upon checking in my room, I set up residence in the shower! I also washed my stinky bog clothes, but the method I used would horrify you so much I won't tell you. Not in this trip report...maybe another time. When I tell people about how I clean bog-clothes mid-trip, they look at me with new-found revulsion. Hey, it works...

The next morning at dawn I rose and headed towards the spectacular range of mountains near Enterprise; the Wallowas shown in the above photograph. I had hoped to meet a local botanist I know, but because of my mutable motel accomodations, and some other snafus in communication, we messed up in our logistics and did not locate each other. Alas!