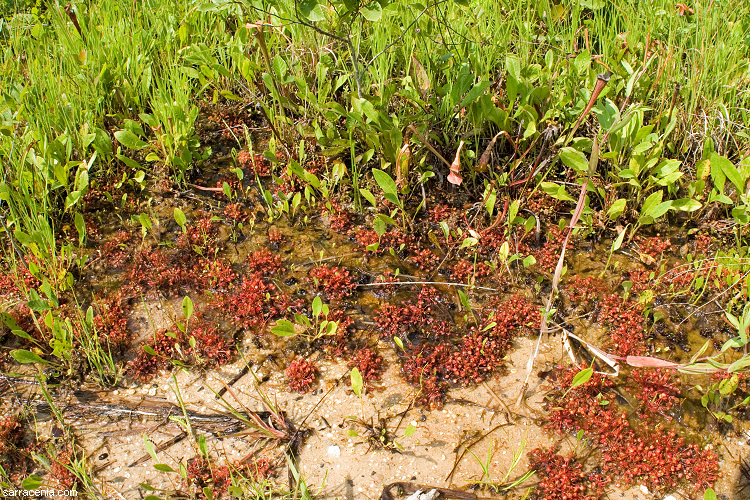 Sundews:
This site was significantly different from the others, in that the main point of interest was a pond bordered on one side by some wet, marshy flats. The pond and bordering flats were home to several carnivorous plant species. I had visited this site once before; for that tale you can read the relevent parts of an earlier trip report.

If you look carefully, you can see in this photograph a few pitchers of Sarracenia jonesii. But the main interest, of course, is the Drosera rotundifolia on the sandy ground. For your pleasure, I also have a closer view of the plants.

We also found floating in the water diffuse mats of a diminutive Utricularia with surprisingly dimorphic shoots. After some time going back and forth in my mind, I rejected the possible identification of them as U. striata, and concluded the plants were simply U. gibba. The weak shoot dimorphism was interesting, though. Here are some photographs of a flower in landscape orientation, and portrait orientation.

As we looked around the area, Jim related to me a story of the time that he met a guy coming out of the site with a bucket full of pitcher plants. If you ever meet Jim, you can get the full saga from him.