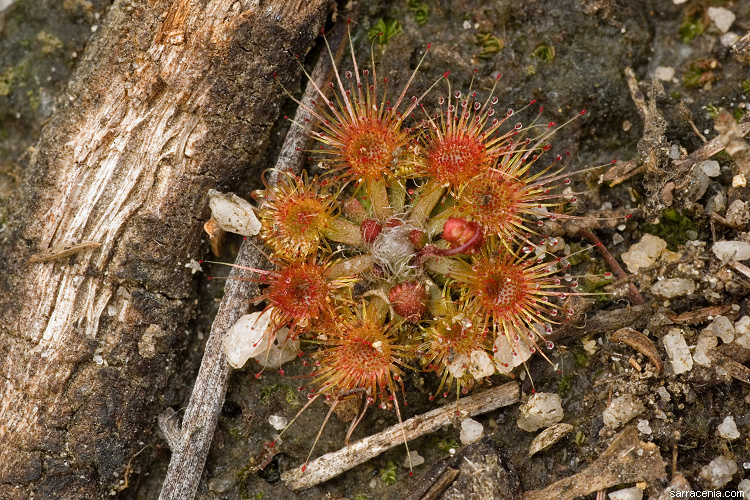 Pygmies:
There were also scattered rosettes of Drosera platystigma present on the moist soil. Here is a photo of a plant and seedling. Or maybe it should be called a gemmaling?

Sunset had arrived, so we drove into town. Phill found us a place to stay in a lovely inn with a comforting fire blazing in the common room. For dinner I ordered a mixed grill, which meant that I received a platter stacked with a few kilos of roasted meat. It was excellent, but completely overwhelming in sheer mass.

After dinner, Beth and I spent a few hours in the nightly ritual of sorting through our images and transferring the better ones from our memory cards onto our portable hard drives. This was a critical ceremony, because even though we carried about 15 MB of memory cards, rarely did a day pass when we finished with much room to spare on them!

That night Beth and I made some serious mistakes in the temperature setting for the heater in our room, and near four in the morning I woke to discover we were in a hothouse. But the heat was so debilitating and I was so tired I couldn't rouse myself do anything about it until we woke for the day, a few hours later. By that, time we had been transformed into heat-pounded rags, as if we had stayed overlong in a sauna.

But it was kind of nice.