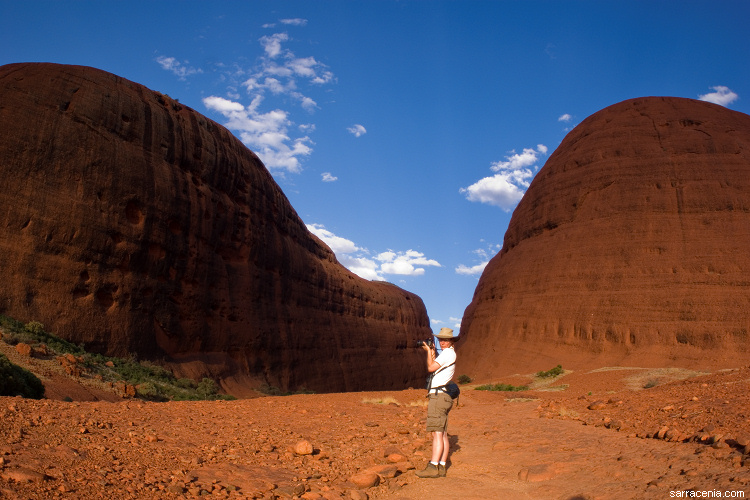 Kata Juta:
I fibbed when I said that the outback is dead-flat except for Uluru. Kata Juta is only about 25 km away and equally dramatic in its own way. Kata Juta consists of a series of sandstone domes. There are about 36 of these domes, the tallest is 546m above the plain.

It is difficult to take photographs of unreal locations like this, because the resulting images look fake! I did not perform any magic to these images--that is the real sky. One gift we got from Kata Juta was a superb viewing of a pair of marsupials--a kind of wallaby called a euro. Very cool!

The next day we flew to Perth where we were picked up by Phill Mann, a well known naturalist of southwest Australia. We were to spend the next several days with Phill as he carted us to carnivorous plant sites.

Travelling from Uluru-Kata Juta to Perth and then to Phill's took all day, during which we saw no carnivorous plants. However, as we drove from Perth to his home, Phill took inhuman pleasure by commenting on the carnivorous plants he said occurred in the various patches of scrub just outside the car's windows. "Oh, there's menziesii in there"; or "lots of erythrorhiza and macrantha back in that." But he wouldn't stop. Phill just kept driving, with me moaning quietly in pain in the passenger seat.

I was in a weakened state by sunset.