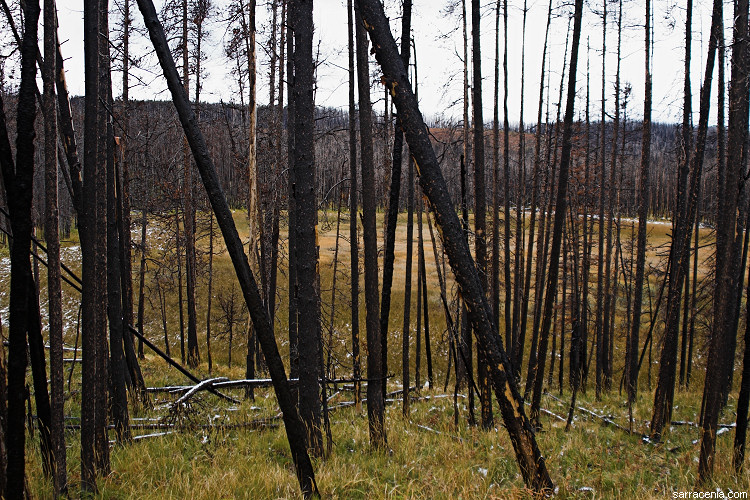 Seeking a fen:
Our goal was a site that supposedly harbored Drosera linearis. This was hard to believe, since this is normally considered to be a Great Lakes species. Even though very competent botanists sent me compelling evidence they were not being misled by Drosera anglica, I wanted to see for myself.

At the trailhead we saw signage warning us we were still in black and grizzly bear habitat. But what was far more alarming was that the area was crawling with camouflaged hunters, heavily armed with high-powered weaponry.

This meant that we were in vastly more danger than ever before. My father was a hunter, and for many years I saw many sides of the hunter community. Despite what apologists say, some sportsmen hunt while drunk, and others shoot at just about any motion that attracts their eye. (There is even a widely used method of hunting called a "brush shot," in which hunters fire blindly into the bushes to flush out whatever is in there. Oops! It was a person!)

We were all too aware that we were entering a hunting area and were not dressed like bright orange traffic pylons. Not that wearing bright clothes might help too much, as I had just read an article about a hunter who was shot in the head and killed because he was wearing a bright red cap, and so was mistaken for a mature male turkey! (By the way, if you are a hunter and want to send me mail telling me I am wrong, etc., don't bother. I've had too many first-hand experiences with hunters to be convinced by your flimsy email.)

As we hiked, while clapping and shouting, we changed our lines from "Hello bear, coming around a corner!" to "Humans coming through, do not shoot us!"

Navigation was tricky because the trail winked in and out of existence under patches of snow. A big fire had burned the area in 2003, killing about 100% of all the trees--subalpine fir (Abies lasiocarpa)--so the walk through the stands of deadwood was monotonous and lacking in landmarks. But in time, my GPS led us to this inviting clearing in the trees: a low sedge wetland.