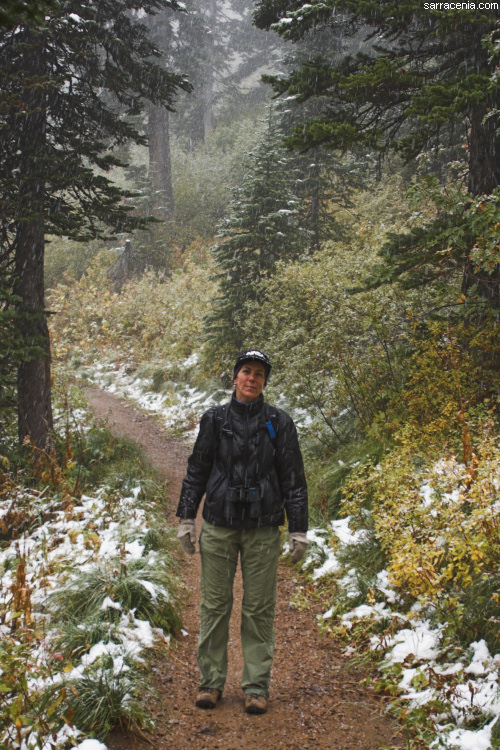 To Iceberg Lake:
Our last day in Glacier arrived, and we had somehow become accustomed to the suspenseful anxiety of bears. While we had seen black bears, we had seen no grizzlies, so we actually selected our final hike because park staff had issued a bear threat warning for the route. They did this because of several recent reports of grizzlies on the trail. We are aware this was probably foolish of us.

Snow started to come down hard, with big flakes filling the air (see above). Immediately after passing the recently posted bear warnings, we met two moose calves on the trail. I was alarmed because I did not know where their mother was, as cow moose can be very protective. The calves didn't seem to mind our presence much, and began chasing and playing with each other like dogs. Horse-sized dogs.

We resumed our hike. The trail was became very brushy, with lots of bends and turns. Sound was deadened by the snow, which was falling heavily as you can see above. Beth and I clapped and shouted frequently. This made looking birdwatching kind of comedic:

"I'LL CIRCLE AROUND BEHIND THE TREE TO TRY FOR A BETTER VIEW OF THE BOREAL CHICKADEE!!!"

"OK!!! IT'S HOPPING TO THE BACK OF THE TREE AGAIN!!!"