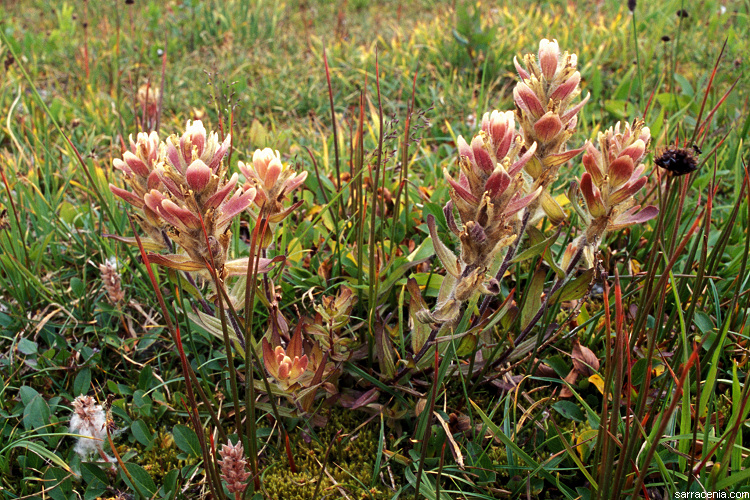 High country:
The next day we drove along a winding drive called the Going-to-the-Sun road, which led us into the high country of Glacier. Glacier guide books rave about the scenery, but I was skeptical. The decade I lived in Arizona jaded me, so while I enjoy scenery it takes something really special to impress me. But the sights at Glacier? Gawd! It is amazing and blew my composure out the window. We stopped again and again to goggle at the huge glacial valleys, peaks, and waterfalls. I felt like a kid on my first trip to the mountains.

The road crossed the continental divide at Logan Pass. Even though the elevation is only 2025 m (6646 ft), it was a windswept, alpine region and a few dustings of snow had already fallen. Despite the lateness of the season, some plants were still flowering. The plant in this photograph is (I believe) Castilleja rhexifolia.

Beth and I reached the trailhead to Gunsight Lake. This was to be our first truly long hike in Glacier, about 20 km (12 miles), and it would lead us into very rugged terrain. Furthermore, if we kept a speedy pace, and continued beyond Gunsight Lake to Gunsight Pass, we would reach where the trail climbs out of the valley. Along this part of the trail, as a special treat, we should encounter Pinguicula macroceras. (Thanks to Peter Lesica for this excellent tidbit!)

The only trick was that if we dallied we would not have time to reach the Pinguicula and then return to the car before dusk. So maintaining a good pace, and not stopping for every bird or plant, was something we had to keep in mind.

As we prepared our packs at the trailhead, we noticed with some alarm that because of recent grizzly bear encounters, parts of the trail had been rated as being more treacherous than usual and that some of the camp sites in the area had been closed. You can imagine this sent our blood pressures up a bit higher.