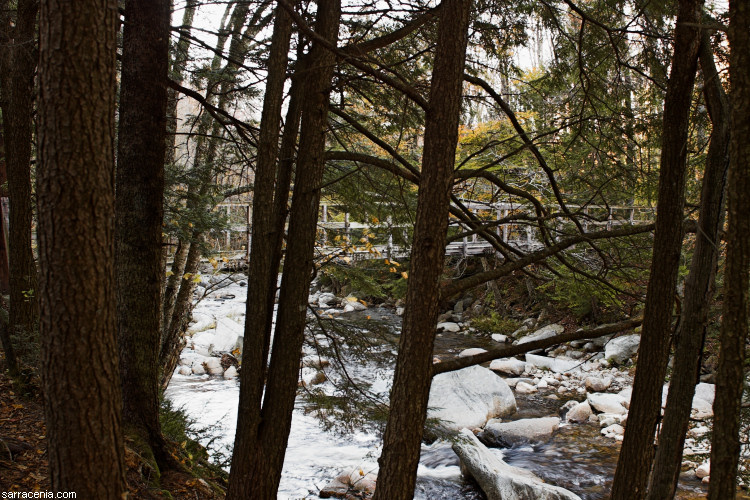 The journey begins:
At dawn, I parked my rental car on a pull-off of a quiet mountain road. I heaved on my pack, which was stuffed with carefully selected gear, and started the hike. The first half kilometer descended down-slope along an abandoned road that, although indicated clearly on my map, in reality was only a rocky, eroded stream bed. After this slippery and wet descent, I stumbled out of the brush and onto the Appalachian Trail.

The Appalachian Trail is a marvelously well maintained hiking route that extends 3500 km (2200 miles) from Maine to Georgia. Vermont has its own impressive route called the Long Trail, which is 440 km (270 miles) long. In this part of Vermont, the two trails were one and the same, and were signed "AT/LT."

I was amazed how well most of the AT/LT was maintained. The photograph above, viewing from the trail, shows a creek-spanning bridge wide enough to accommodate only one person at a time. Despite its fame and level of upkeep, the trail wasn't particularly busy. It was a fine walk, although slick with wet autumn leaves and mud.

I watched on my GPS as I passed one pre-programmed waypoint after another. The progress was reassuring. It would have required a real talent to get lost on the AT/LT, so I wasn't worried about that. Rather, I knew that the next stage of my hike involved great uncertainties, and I was a little nervous about the navigational ordeal that awaited me.