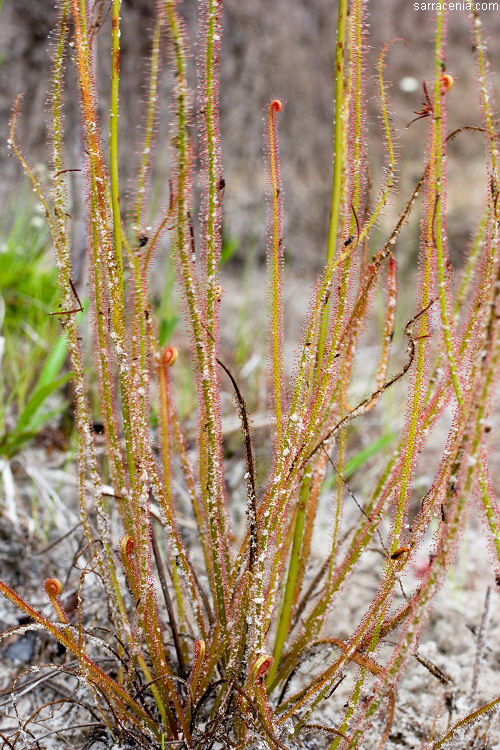 The weather clears
(This is the last photograph I took of the hybrid as we waited in the gully for the storm to bear down upon us. Sorry about the leaves that are obviously blowing in the wind, but the pre-storm gusts had become extreme and continuous.)

The storm over, we hustled back to our cars. Wading through the lake was nerve-wracking because the rain had resumed. But this time the rained was light, and the thunder kept its distance. It was as if the Gods were merely reminding us not to dawdle.

As I mentioned, a few days earlier Beth had killed her digital SLR by dunking it in a Sarracenia bog during a kayak misadventure. Well, I want you to try to imagine my incredible displeasure at learning, back at the car, that it was now my camera's turn to malfunction. Water had evidently gotten into some of the controls during my storm-photography.

I removed its battery, dried the control panel as best I could, and crossed my fingers. Discussing camera options with Jim Miller, I learned that there probably were no large camera stores within 100 km, so obtaining a replacement would be difficult. This was not good to hear.

Back on the hunt for plants, we caravanned to a pond that Randy thought might pay off, but upon our arrival the site looked wrong for Drosera filiformis on several counts. I did not want to spend my precious, limited time searching an unpromising site, so Beth and I decided to leave for another lake. Meanwhile, Jim had to return home. Brian and Randy decided to stay and survey the lake at hand.

We said our goodbyes and split apart---we'd see Randy and Jim again, but it was sad to say farewell to Brian, as he is a great field companion. Another day, no doubt...

With a few hours remaining in the day, Beth and I travelled to a site where herbarium records had indicated that both Drosera filiformis and Drosera tracyi were present. Would we find both species? Would we find another hybrid site?