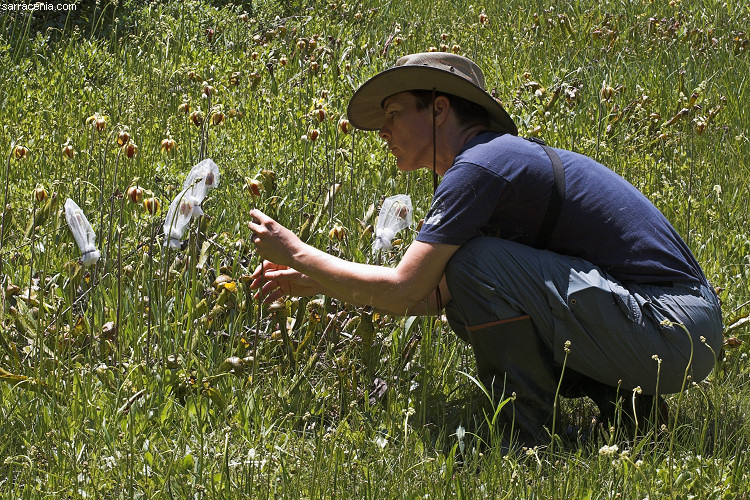 Pollination exclusion:
Here is my fabulous wife, Beth, helping me with some of the experiments. I'm using mesh bags (with mesh of different sizes) and cotton balls to watch for pollination effects. Also, I'm repeating Elder's "emasculation" trials, etc., in prelude to additional studies next year.

This kind of experiment requires many trips. For example, on the first trip, flowers must be bagged before they open. On a second trip, manual pollination is performed. On a third trip--later in the season, all the unbagged flowers must be bagged so seed will be properly captured. On a fourth trip (at the end of the year), seed will be gathered and the experiment must be cleaned up so no trace is left. Add a few monitoring trips, and you see that I must visit the site with some regularity.

I've been doing this sort of work at the site for years, yet I have never seen a pollinator flying from flower to flower. Oh, I've seen bees, butterflies, diurnal moths, flies, craneflies, mosquitoes, and all sorts of other flying invertebrates in the seep. I've even seen hummingbirds! But while many of these creatures may buzz a flower, they always give up quickly and move onto other plants.